'LIVE' with THE KING of POT
(Election Night Special)
REPLAY coming soon
One of the many Guest coming on the show this evening.
His name is Neil Franklin, he is the Executive Director of LEAP (Law Enforcement against Prohibition). An Organization started here in MA by former Police Officer Jack A. Cole.
Paul Stanford, President at The Hemp & Cannabis Foundation
Representative from the great State of Maine, Diane Russell (D-Portland)
Jeffrey Dhywood author of "World War D – The Case against prohibitionism, roadmap to controlled re-legalization" . he will be giving away some sign copies of his book
Darcy from Hemp Eaze, A company that produces lotions and creams derived by Hemp.
Chris Bennett, He has been studing the historical role of cannabis -particularly in realm of religion, spirituality, and mysticism. Direct from Vancouver, Canada.
The HOLY HEMPTRESS, Activist and Advocate forMMJ/Cannabis hemp cause since 1975.
Also direct from California The 420 Nurses and The 420 Comic, Jeffrey Peterson.
In studio guest, BOBBY NUGGZ from Releaf Magazine in Rhode Island.
More guests being added right up to the show.
Simulcasted on 2 websites!
www.kopproductions.com
www.thekingofpot.com
T-shirts, books, and some very special prizes from our
Sponsors to some lucky callers when we open our
Studio line
1-401-626-4420
SPONSORED by
Come and visit the all new KOP PRODUCTIONS.COM. For 10 years KOP PRODUCTIONS covered only Marijuana.
Now with our all new direction we will explore the Counter-culture like never before.
We will delve into subject matter that many would find taboo or to absurd for the conservative.
Content you may have thought and  have wondered about but never explored. Go on the inside with us through our exclusive video, radio, news, and events.
We promise to present all the content with class and dignity.
Come check us out and open your minds.
Visit us below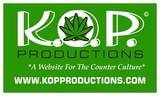 Recorded LIVE on Thursday 26 January 2012 at the KOP PRODUCTINS Studio's in Boston,MASS.
A special show with our newest member of the KOP PRODUCTION family, RICH FU. On his debut show, he will be having in studio a local BOSTON Activist who has just left the marijuana movement for reasons that are not known. This Activist is very well known. Who is it? Tune in and find out.
Rich will try to find out the reasoning behind his departure and find out where he thinks marijuana reform is heading.
We also will be taking calls and hearing your opinions on this SPECIAL RADIO Show.
Studio line is: 1-401-626-4420.
Thank you all for the support!
CLICK the player below to listen to the replay or listen with ITUNES
Join Miss Micaela, Valerie, Bill Downing, and in studio guest Rich Fu.
Special guest Steve Elliott "Mike Cann, President of MASS CANN/NORML comes on the line to chat about the upcoming Annual members meeting where there will be plenty of activist in Boston running for board positions within Massachusetts marijuana reform group.
Another segment of "Downing on Drugs". This week Bill discusses MUSHROOMS. Guaranteed to put a giggle in your day.
Also we introduce another new segment "The Good News", with Miss Micaela. Where she will take us to other realms within in the counter-culture. Plus we welcome in studio guest Rich Fu who brings a little bit of controversy and a different spin on our topics.
Also General Ovatus of PLANETOID comes back on the show to discuss their new 4 songs CD, The Abraxas Tactics PHASE 1 "Kiss of the Magnetar".
This show is a little longer than most because we had so much fun doing it. We do hope you enjoy.
Featuring additional music by John Prine, War, Deep Purple, Planetoid, Small faces, and Ram Jam. So crank us up and listen in or download and take us along!

Sponsored by FAR OUT MAGAZINE
Listen:

Audio clip: Adobe Flash Player (version 9 or above) is required to play this audio clip. Download the latest version here. You also need to have JavaScript enabled in your browser.
We are now available on ITUNES for downloading and listening at your convenience.